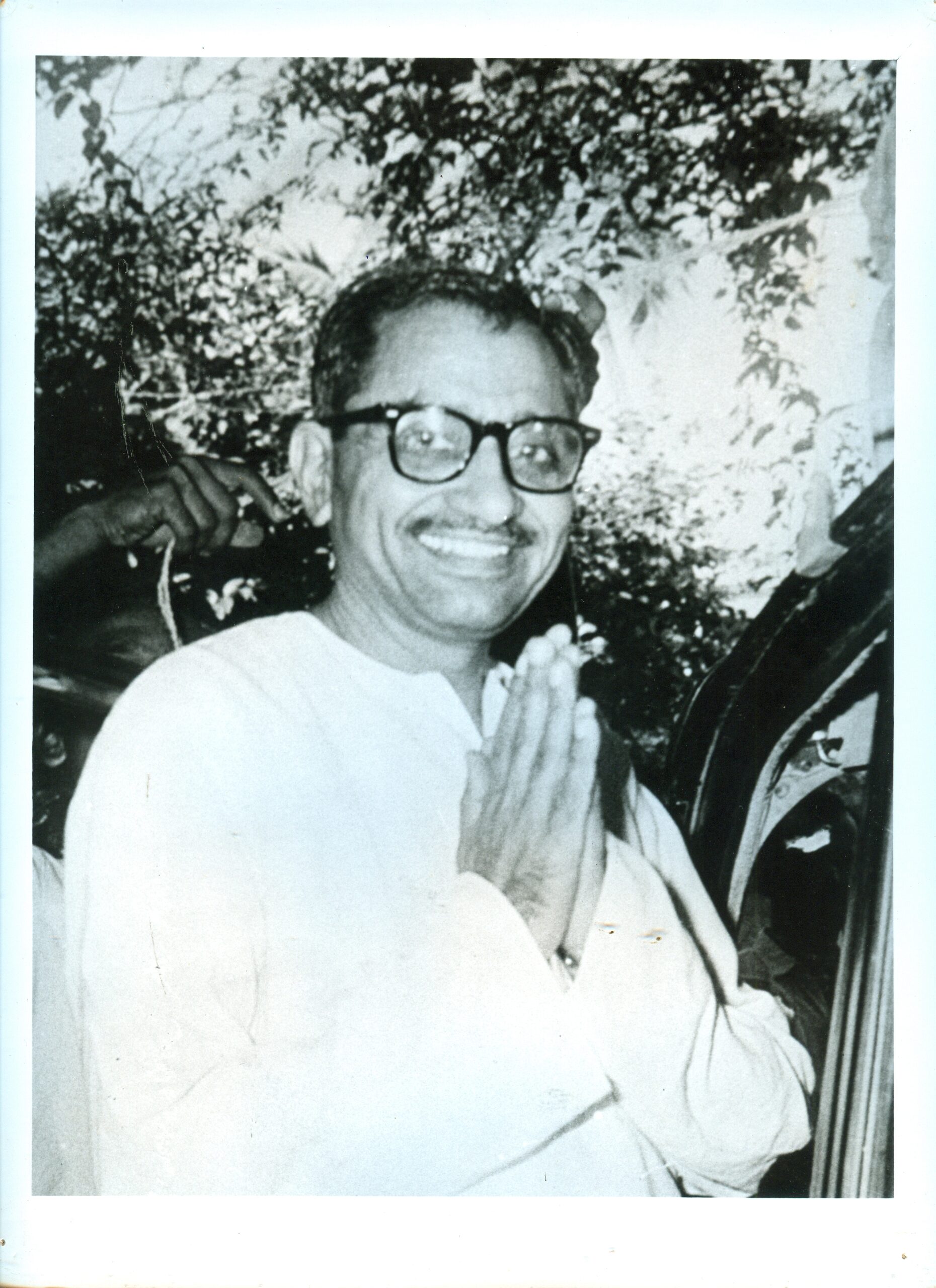 Pandit Deendayal Upadhyay was born on 25th of September, 1916, at Nagla Chandrabhan village in Mathura district. His full name was Deen dayal Upadhyaya, but he was fondly called Deena by the family. He had a very difficult childhood as he lost both his parents at very early age. He was brought up and educated at his maternal grandfather place thus he deprived of the love and affection of both his parents at an early age. But Deendayal ji gained strength from the negative forces and sufferings around him and developed a unique personality. Deendayal ji was a brilliant scholar during his school days and did his schooling at different places such as Gangapur, Kota, Rajgarh, Sikar and Pilani. In his high school at Sikar, Rajasthan he stood first in the board examination and the then ruler, Maharaja Kalyan Singh of Sikar, presented him with a Gold Medal, a monthly scholarship of Rs.10 and Rs.250 towards his books, as recognition of his merit. Deendayal ji went to Pilani to study for his Intermediate where he not only topped the board exam in 1937, but also obtained distinction in all subjects. He was the first student of Birla College to have fared so well in the exam and for this marvelous achievement he again received a gold medal, a monthly scholarship of Rs.10 and Rs.250 towards books from Ghan shyam das Birla. Deen dayal ji did BA in first division from Sanatan Dharma College, Kanpur in 1939 and joined St. John's College, Agra for pursuing his master's degree in English Literature which he didn't complete due to personal reasons. Deen dayal ji, thereafter, left for Prayag to do his B.T. His love for studies increased manifold after he entered public service. His special areas of interest were sociology and philosophy, seeds of which were sown during his student days.
He joined RSS in 1937 and came under the influence of Shri Nana ji Deshmukh and Shri Bhau Jugade. After completing his education and training in the RSS Education Wing, he became a lifelong pracharak of the Sangh. He entered politics through the Rashtriya Swayamsevak Sangh, became the General Secretary of the Bharatiya Jan Sangh, from its inception 1951 till 1967 and later became the president of Jan Sangh on 29th December 1967. His tenure was short-lived and just after 43 days of becoming President he was found dead by a railway track in Mughal Saraion February 11, 1968 under mysterious circumstances at the age 52. The death of Pandit Deendayal still remains unresolved.
Deendayal ji was a creative writer and a renowned editor. He was a journalist in 'Rashtra Dharma' daily, worked as editor for 'Panchjanya' and wrote a column named 'Political Diary' for the weekly 'the Organiser'. His mantra for the journalism was 'Don't distort the news'. He wrote a number of books including Samrat Chandragupt, Jagatguru Shankaracharya, Political Diary, Integral humanism, Ekatmamanav - vad and an analysis of the Five Year plans in India.
Pandit Deendayal Uapdhyaya is extensively admired for the philosophy of Integral Humanism which is the official philosophy of the Bharatiya Janata Party. According to Upadhyaya ji, the primary concern in India must be to develop an indigenous economic model that puts the human being at center stage. Integral humanism contains visions organized around two themes: morality in politics and swadeshi, and small-scale industrialization in economies, all Gandhian in their general thematic but distinctly Hindu nationalist. These notions revolve around the basic themes of harmony, primacy of cultural-national values, and discipline.
Main ideas of Pandit DeendayalUpadhyay may be seen in his conceptualization of Bharatiyata, Dharma, Dharmarajya and Antodaya. Antyoday, although a word belonging to Gandhian lexicon, it is inbuilt in the ideas of Pandit DeendayalUpadhyay. His vision of 'education for all' and 'har hath kokam, harkhetkopani' was seen culminating in his idea of Economic Democracy. Explaining his idea of Economic Democracy, he says, "If a vote for everyone is the touch-stone of political democracy, work for everyone is a measure of economic democracy. Opposing the ideas of large scale industries based development, centralization and monopoly, he advocated swadeshi and decentralization. He further said that any system which reduces the opportunity for employment is undemocratic. He advocated a system free from social inequality where the capital and power get decentralized.
Pandit Deendayal Upadhyay message was to build a strong and prosperous Indian nation on the foundation of Indian culture which guarantees freedom, equality and justice to all (Dharmarajya), maximum good to all (Sarvodya and Antyodaya) and synthesis, not conflict, as the basis of life (Samanvaya).