Introduction
COLLEGE OF BIOTECHNOLOGY (academic programmes under self finance scheme):

Biotechnology integrates multiple disciplines like genetics, molecular biology, biochemistry, embryology, microbiology and cell biology, which are in turn linked to practical disciplines like Genetic engineering, Bioinformatics, Vaccine technology, Industrial microbiology and plant tissue /animal cell culture technology.
The College was started in 2010 under self-finance scheme.
The mandate of the college:
To provide quality practical oriented education and research opportunities in Biotechnology and allied subjects.
The College offers following Four academic programmers:
B.Sc. (H) Biotechnology
Industrial Microbiology (6 semesters)
M.Sc. Biotechnology
Ph.D. Biotechnology
The College has competent faculty to run the undergraduate and post graduate programs. College of Biotechnology has its own newly constructed modern building equipped with all necessary facilities for education and research. The University has signed Memorandum of understanding (MoU) with National institutes Of ICAR namely, Central Institute for Research on goats (CIRG), Makhdoom, Indian Veterinary Research Institute (IVRI), Izatnagar and National Dairy Research Institute (NDRI), Karnal. These MoUs with National institutes further enhance the research and education opportunities through their faculty and laboratory facilities.
The students are imparted hands on training in the techniques of molecular biology & genetic engineering, Microbiology and animal and plant tissue culture in the following fully equipped laboratories of the college:
Molecular Biology Laboratory
Microbiology Laboratory
Instrumentation Laboratory
Biochemistry Laboratory
Animal and Plant tissue culture laboratory
Bioinformatics Laboratory
CONTACT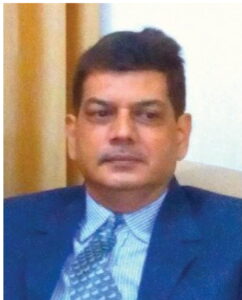 Prof. Sharad Kr. Yadav, Dean
E-Mail: deanbiotechduvasu@gmail.com
Research
Areas of Research
Molecular diagnostic techniques for important diseases of Livestock and poultry.
Disease Surveillance/disease eradication using molecular biology tools.
Candidate gene approach for production and reproduction trait
In vitro embryo production techniques for enhancing the reproduction in animals
List of MSc Thesis
S.no.

Name of  M.Sc. Student

Title of thesis/Dissertation

1.
Deepti  Singh
Phylogenetic studies of Canine parvovirus in dogs using VP1/VP2 gene
2.
Shweta Sharma
Study of P1T1/POU1F1 gene polymorphism in Indian

Barbari goats, using PCR-RFLP method

3.
Harsh Kumar
Studies on polymorphism of major fecundity Booroola gene (FeeB) in Indian prolific barbari goats
4.
Shilpi Dixit
Comparative profiling of seminal plasma and serum membrane proteins in cattle and buffalo
5.
Juhi  Pathak
Comparative study on parthenogenetic activation and embryo production from in vitro matured caprine goats
6.
Pallavi Chaturvedi

Differential expression of TLR3 and TLR4 in caprine brucellosis
7.
Swati  Dubey

 

Characterization of MC1R gene by PCR-RFLP and HRM analysis
8.
Tripti Singh
Detection and prevalence of Rotavirus in diarrheic bovine calves
9.
Ajay Singh
Comparative evaluation of different serological tests for diagnosis of caprine brucellosis
10.
Varun Kumar Singh
Analysis of Polymorphic and Expression Pattern of Heat Shock Gene and Heat Shock Transcription Factor-1 in Goat
11.
Anita Sharma
Genetic polymorphism study on  DGAT1 and ABCG2 gene in Sahiwal and Hariana cattle.
12.
Lalita Sharma
Studies on oxidative stress and its role in mastitis with special reference to Staphylococcus aureus
13.
Vaibhav Tomar
Purification and Characterization of Urinary antimicrobial peptides of goat
14.
Hitesh lamba
Genetic Polymorphism of TLR4, CD14 & DRB3 gene in Indian breeds of Cattle & Buffalo
15.
Devendra Kumar
A comparative study on Expression profile of HSP genes during different Seasons in Goat breeds
16.
Dharmendra Singh Chauhan
Molecular and Functional Characterization of Voltage Gated Sodium Channels in Sperms of Bulls
17.
Abhishek Pal
Genetic Polymorphism of Kappa-Casein and Beta- Lactoglobulin genes in Sahiwal, Hariana cattle and Murrah buffalo
18.
Akhilesh kumar
Heat Shock Protein 70 and Redox status in fluid and spermatozoa in different segments of buck epididymis
19.
Parul Singh
Genetic Polymorphic studies of Fecundity genes in Muzaffarnagari Sheep
List of Ph.D Thesis
| | | |
| --- | --- | --- |
| S.no. | Name of  Ph.D Student | Title of thesis |
| 1. | Priyambada Kumari | Insights into Toll-like Receptors Expression and Th1/Th2 Cytokines regulation in Peripheral Blood of Dogs with Demodicosis |
| 2. | Deepika Kritaniya | A study on assessment of DNA integrity and Protamination status of Barbari Buck Semen |
| 3. | Jayshree | Molecular Characterization and typing of methicillin resistant staphylococcus aureus (MRSA) |
| 4. | Ajay Singh | Development of OMP31 Protein based  ELISA for diagnosis of ovine and caprine brucellosis |
| 5. | Bhawna Kushawaha | Functional and Molecular studies and associated signalling pathways of mercury-induced deleterious effects on spermatozoa of bucks |
| 6. | Pratishtha Sharma | Studies on the toxicity of Acrylamide and its amelioration in Wistar rats |
| 7. | Shalini Yadav | Development of sodium polyacrylate Nanoparticles based Combined Mastitis Vaccine and Assessment of its Efficacy in Mice Model |
| 8. | Deepti Singh | Development of omp28 based ELISA for diagnosis of Bovine Brucellosis |
Publications
Singh, D., Verma, A.K., Kumar, A., Srivastava, M.K., Singh, S.K., Tripathi, A.K., Srivastava, A. and Ahmed, I.  (2013). Detection of canine parvovirus by polymerase chain reaction assay and its prevalence in dogs in and around Mathura, Uttar Pradesh, India. American Journal of Biochemistry and Molecular Biology,3(2): 264-270.
Dixit, S., Pandey, V., Swain, D., Sharma, D., Sharma, A. and Saxena, A. (2013). Sperm apoptotic index in fresh and freeze-thaw semen of cattle and buffalo. Veterinary Practitioner14 (1): 108-109.
Sharma, S., Tiwari, M., Sharma, S., Singh, S. P., Sharma, A. and Pandey, V. (2013). The study of PIT1/POU1F1 gene polymorphism in Indian Barbari goats usin PCR-RFLP methods. Indian Veterinary Journal,90(11): 15-16.
Singh, H.K., Sharma, D., Singh, S.P., Tiwari, M. and Pandey, V. (2013). Investigation of major fecundity Booroola gene (FecB) polymorphism in Indian Barbari goat breed. Indian Veterinary Journal,90(11): 16-18.
Singh, A., Gupta, V.K., Kumar, A., Singh, V.K., Shivasharanappa, N. (2013). 16S rRNA and Omp31 Gene Based Molecular Characterization of Field Strains of B. melitensis from Aborted Foetus of Goats in India Scientific World Journal, 2013: 160376.
Singh, D., Verma, A.K. and Kumar, A. (2014). Phylogenetic analysis of canine parvovirus isolates from Mathura, India. Veterinarski Arhiv84 (5): 505-512.
Singh, A., Gupta, V.K., Kumar, A., Singh, V.K. and Shivasaranappa, N. (2014) Omp31 gene based molecular detection of Brucella melitensisfrom serum samples of goats. Indian J. Anim. Sci. 84(3): 251–253.
Singh, D., Verma, A.K., Kumar, A. and Srivastava M.K. (2015). Molecular typing of canine parvovirus with PCR assay based on genetic markers of the antigenic variants. Indian Journal of Animal Sciences, 85(1): 12-15.
Sharma, L., Verma, A.K., Kumar, A., Rahal, A., Neha and Nigam, R. (2015). Incidence and pattern of antibiotic resistance of Staphylococcus aureus isolated from clinical and subclinical mastitis in cattle and buffaloes. Asian Journal of Animal Scien
10  .Dharmendra Singh Chauhan  , Dilip Kumar Swain ,  Nadeem Shah  , Hanuman Prasad Yadav  , Udayraj P. Nakade ,      Vijay Kumar Singh  , Rajesh Nigam  , Sarvajeet Yadav  , Satish Kumar Garg (2017) Functional and molecular characterization of voltage gated sodium channel Nav 1.8 in bull spermatozoa. Theriogenology 90 (2017) 210-218
Davendra kumar, Brijesh yadav, Soumen choudhary, Priyambada kumara, Arun kumar madan, Satyendra pal singh, P.K. Rout, N. Ramachandran & Sarvajeet yadav (2017). Evaluation of adaptability to different seasons in goat breeds of semi-arid region in India through differential expression pattern of heat shock protein genes (2017).Biological Rhythm Research
Jayshree, Vinod kumar singh, Amit kumar, and Sharad kumar yadav (2018) Prevalence of Methicillin Ressistant Staphylococcus Aureus (MRSA) at Tertiary care Hospital of Mathura, India Progressive Research- An International Journal .
Dharmendra Singh Chauhan, Dilip kumar Swain, Nadeem Shah, Hanuman Prasad yadav, Abhishek Sharma, Brijesh yadav, Sarvajeet Yadav, Rajesh Nigam, Satish kumar Garg (2017) ,Modulation of Voltage-gated sodium channels induces capacitation in bull spermatozoa through phosphorylation of tyrosine containing proteins. Theriogenology.
Kumari P, Nigam R, Chiudhary S, Singh S.K, Yadav B, Kumar D, Garg S.K 2018. Demodex canis targets TLRs to evade host immunity and induce canine demodicosis. Parasite Immunology. 40 (3),doi: 10.1111/Pim.12509
Kumari P.Nigam R, Singh A, Nakade UP, Sharma A, Garg S.K , Singh S.K 2017.Demodex canis regulates cholinergic system mediated immunosuppressive pathway in canine demodicosis. Parasitology. 144(10):1412-1416
FACULTIES
CORE FACULTY:
RESOURCE FACULTY
Veterinary College, Mathura

:
Facilities
Lecture theatres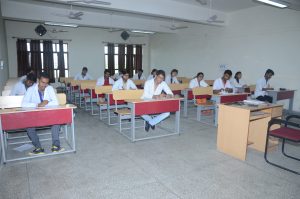 The Theatres of  Knowledge
A multitude of budding biotechnologists and microbiologists study in well spacious and well furnished ventilated Classrooms which provides the most conducive atmosphere for dynamic and focused teachings and discussions. Classrooms are augmented with integrated audio-visual teaching aids for lectures.
LABORATRIES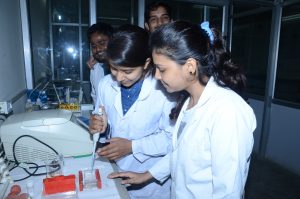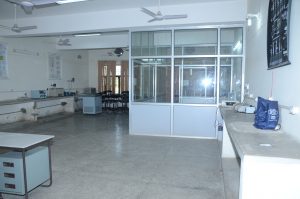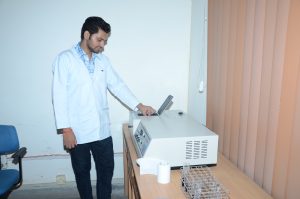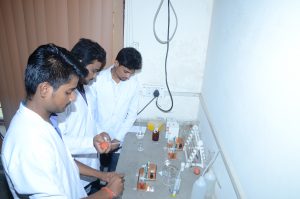 College has 8 state-of-the-art labs to Explore New Frontiers in Biotechnology. The Labs are
Molecular Biology Lab
Microbiology Lab
Genetic engineering and RDT Lab
Instrumentation Lab
Bioinformatics Lab
Plant Biotechnology Lab
Animal Biotechnology Lab
Biochemistry Lab
The specialized biotechnology laboratories are equipped to conduct advanced practical classes and research work where students experiment and bring to practice what they have learnt in theory.
Some specialized laboratories facilities include:
Spectrophotometer
Thermal Cyclers
Type-I Water Systems
Inverted Phase Contrast Microscope
Tissue Culture facility
Lyophilizer
UV-VIS Spectrophotometers (single and double beam)
Refrigerated Centrifuge
O.D. Incubator
Metabolic Shakers
Electrophoresis Systems (vertical and horizontal)
Shaker Water Baths
Media Filtration Systems
CO2 Incubator
Plant Growth Chambers
o -400 C Refrigerators
High Speed Centrifuges
Blotting Systems
Tissue Homogeniser
CENTRAL LIBRARY
The library is more like Integrated Knowledge Resource Centers that are stocked with over 5000 books in total; periodicals, references, national and international journals, covering all aspects of  relevant academic studies and research materials.
MEDICAL FACILITIES
On-Campus Healthcare
To ensure students' well-being, the university provides medical facilities. 24*7 ambulance facility is also available in the Campus in case of any emergency.
SECURITY & PARKING
The Campus has a stringent security with 24-hour guards and patrolling .The girl student's safety is on priority
HOSTELS
ON-CAMPUS Canteen
SPORTS FACILITIES
At DUVASU, sports form one of the important aspects of a student's development. Different outdoor and indoor games facilities are available to the students.
PLAY GROUND
Through its excellent sports facilities, DUVASU offers opportunities to students for regular work-out, lifestyle management and interaction with a well equipped Gymnasium.
NATIONAL CADET CORPS (NCC):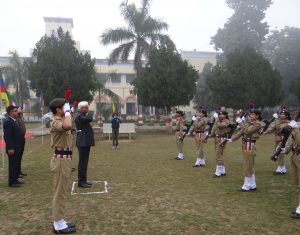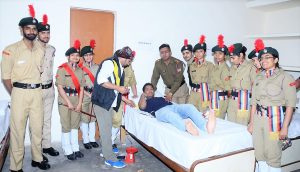 Course Programs Offered
B.Sc. Biotechnology (H)
Bio-technology is a science involving the use of living organisms in processes for the manufacture of useful products. It involves algae, bacteria, fungi, yeast, cells of higher plants and animals. Biotechnology is multi-disciplinary in nature and includes biological sciences e.g. genetics, microbiology, animal cell culture, molecular biology, biochemistry, embryology, cell biology, cell & Tissue culture, immunology and chemistry. Modern use of the term biotechnology refers to making changes in the genes of an organism (bacteria, animals and plants) to improve their characteristics, like production of useful protein in bacteria, curing genetic diseases in humans and to develop resistance against diseases caused by various virus, bacteria and insects in plants.
B.Sc. Industrial Microbiology (H)
Microbiology is a branch of science that studies microorganisms such as bacteria, protozoa, algae, fungi, bacteria, viruses, etc. The relevance and applications of these microorganisms to the surrounding environment including human life and Mother Nature becomes part of this branch. Since inception of this branch of science, Microbiology has remained a field of actively research and ever expanding in all possible directions; broadly categorized as pure and applied science. Different branches of Pure Microbiology based on taxonomy are Bacteriology, Mycology, Protozoology and Parasitology, Phycology and Virology; with considerable overlap between these specific branches over each other and also with other disciplines of life sciences, like Biochemistry, Botany, Zoology, Cell Biology, Biotechnology, etc. Areas in the applied Microbial Sciences can be identified as: Medical, Pharmaceutical, Industrial (Fermentation, Pollution Control), Air, Water, Food and Dairy, Veterinary, Environmental (Ecology, Geomicrobiology); and the technological aspects of these areas.
Download the detailed semester wise courses for :-