With the establishment of Veterinary College in 1947, College Library was started in a small hall of the main building. There after shifted to the present three storied building in 16th January 1977. After establishment of University in 2001, College Library was upgraded to University Library. The University Library is providing quality services to the students, teachers & research scholars, supporting teaching, research and extension programmes of the university.
Location: At present, the library is functioning in a total floor space of 300 sq. M. in the basement, ground floor, first floor, and second floor of the Library building. The Book Section, Book Bank, The Journal-cum-Back volume Section, CD-ROM Database Unit, Digitization Unit, Reprography, thesis binding equisetic, and reprography are functioning in basement. Books, references, automation digitization unit, office are functioning at the Ground floor. Current journals, progress report, recent literature, Newsletters etc, CD-ROM and Internet/Wi-Fi facility are available in whole building. Conference hall/ Counseling hall are functioning on 2nd floor.
Working hours: The library is open to all working days from 9.45 AM to 7.00 PM
Student Reading Habits: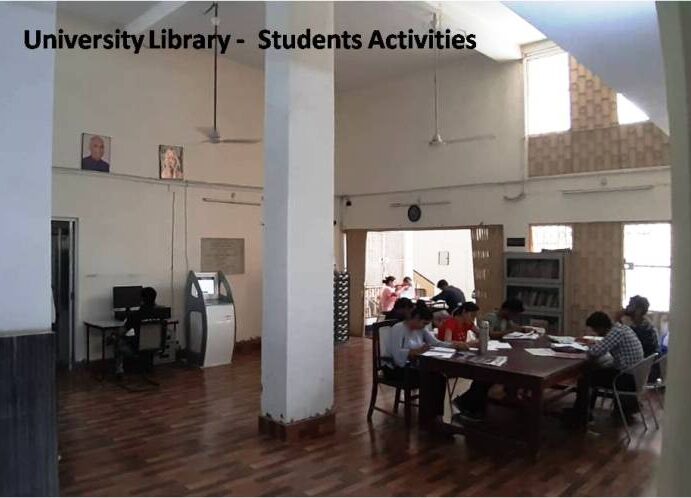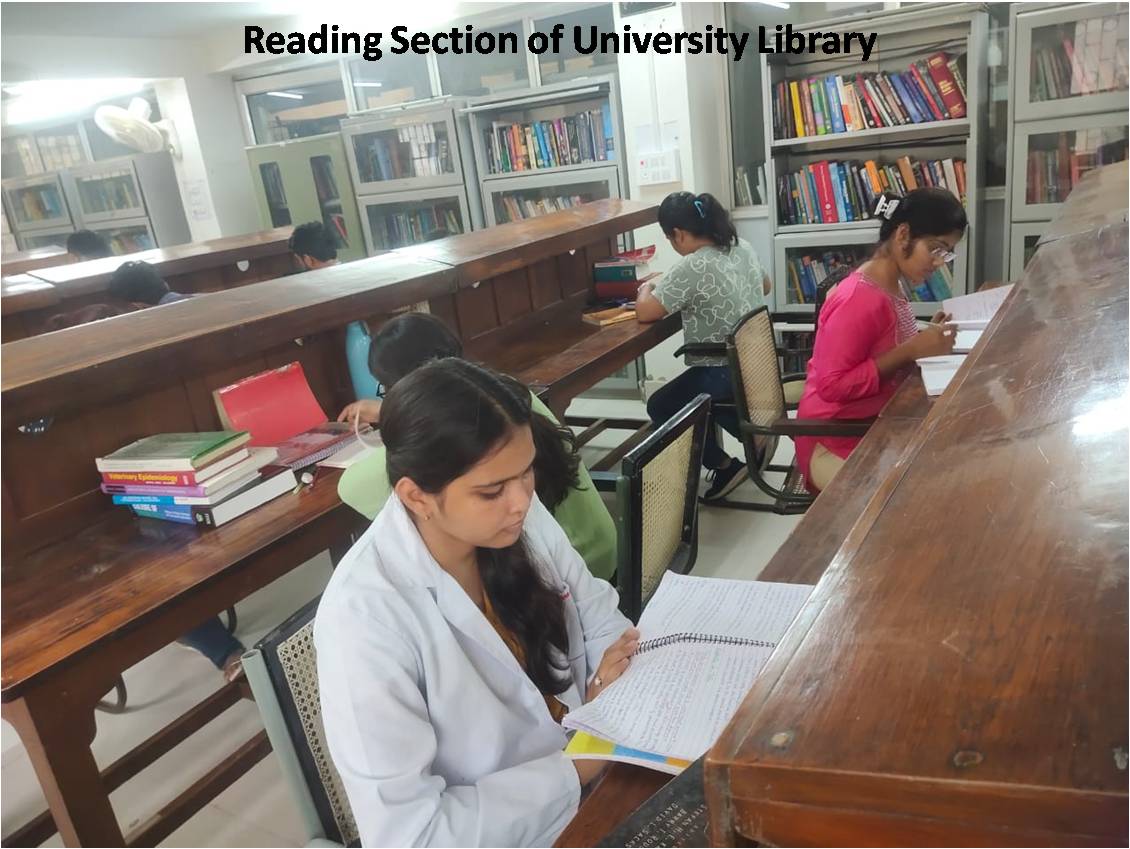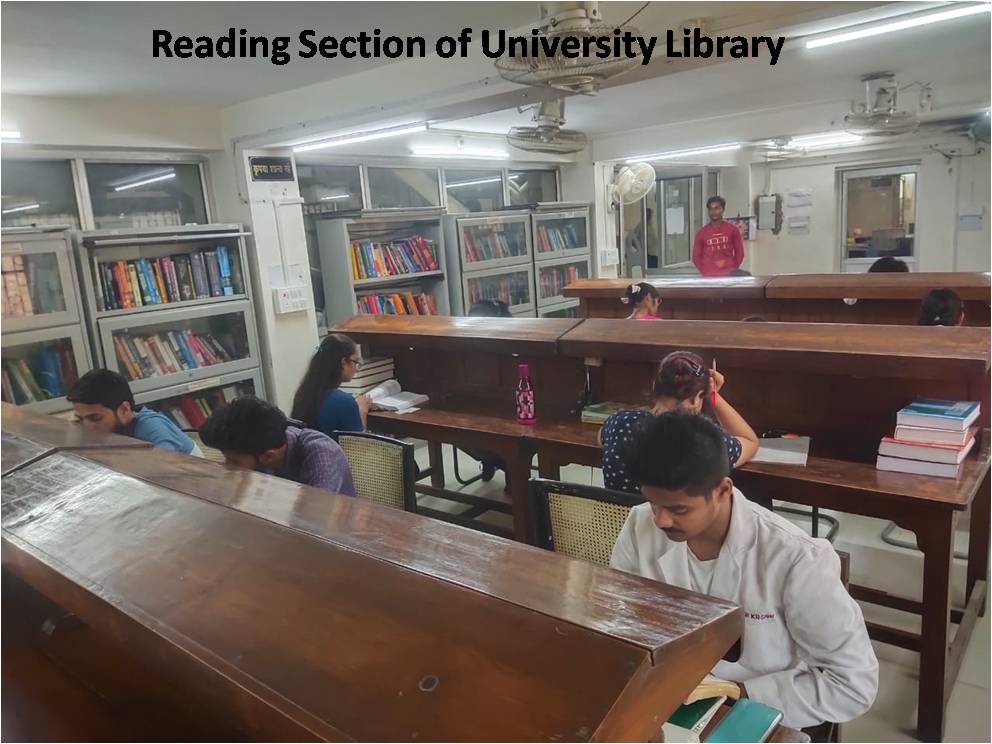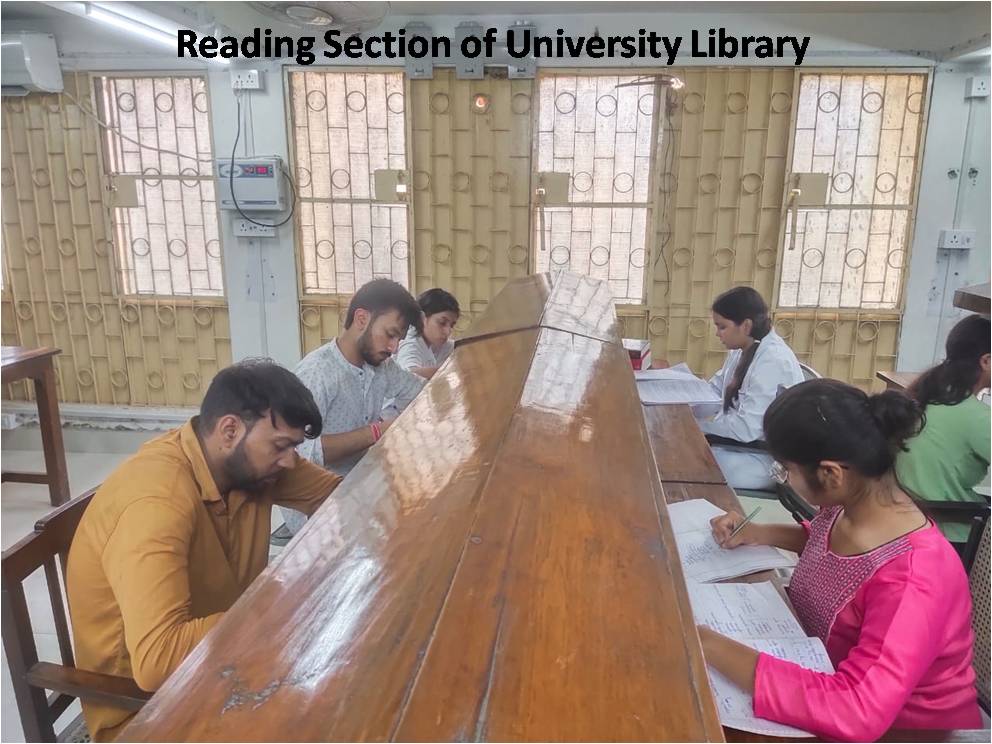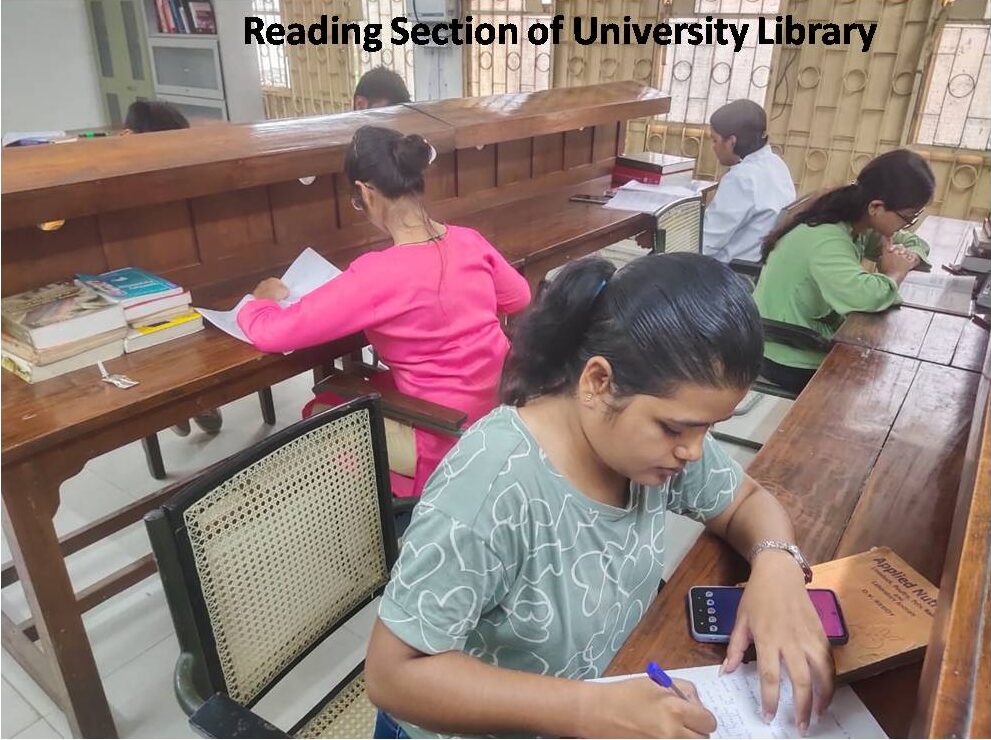 Collection: University Library has a highly specialized collection of 33,000.00 approx. (Thirty Three Thousands) documents in the field of Agriculture, Veterinary Sciences, Animal Husbandry, Poultry Science, Biotechnology, Fishery and other allied subjects. The collection includes Books, Theses, Periodicals, Standards, Reprints, Maps, Toposheets, Globes & CD-ROMs. The collection grows at an average rate of 500 Volumes per year.
Raj Bhavan Publication: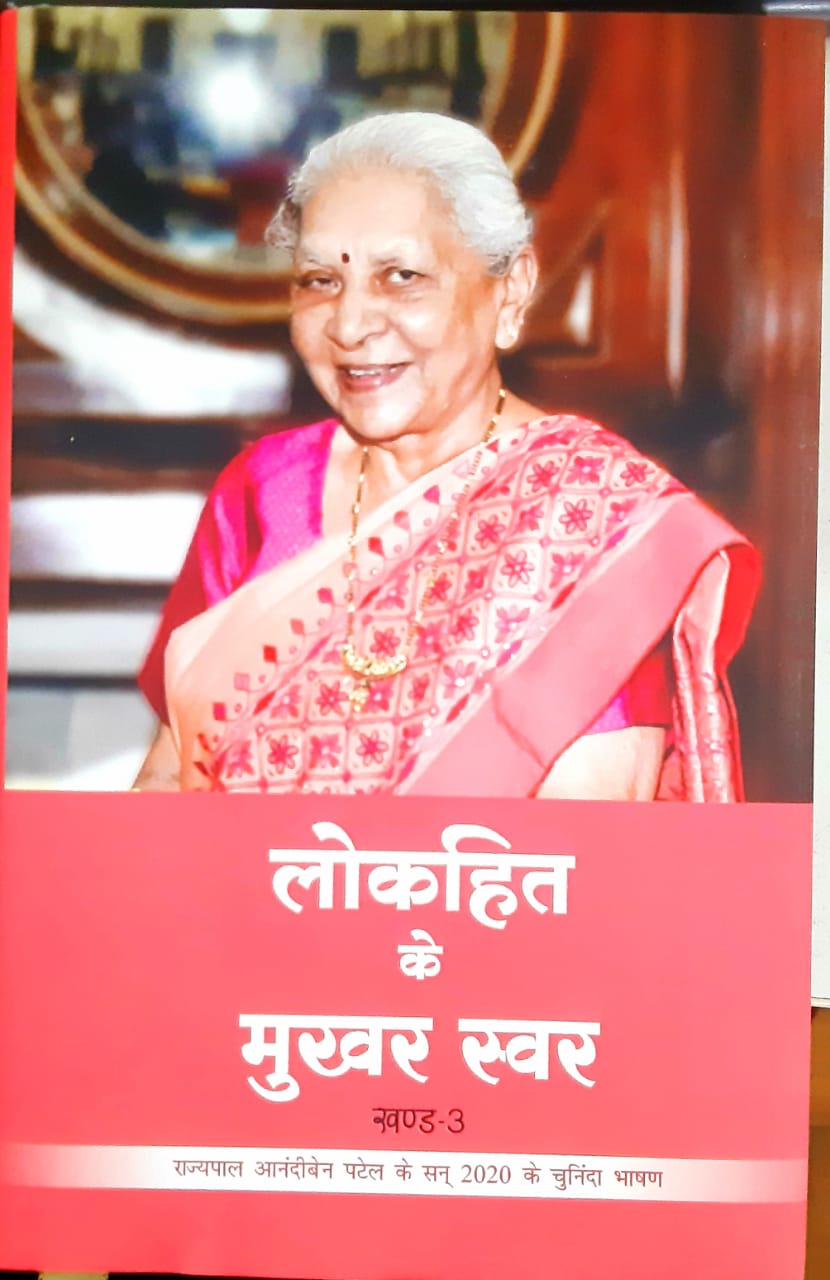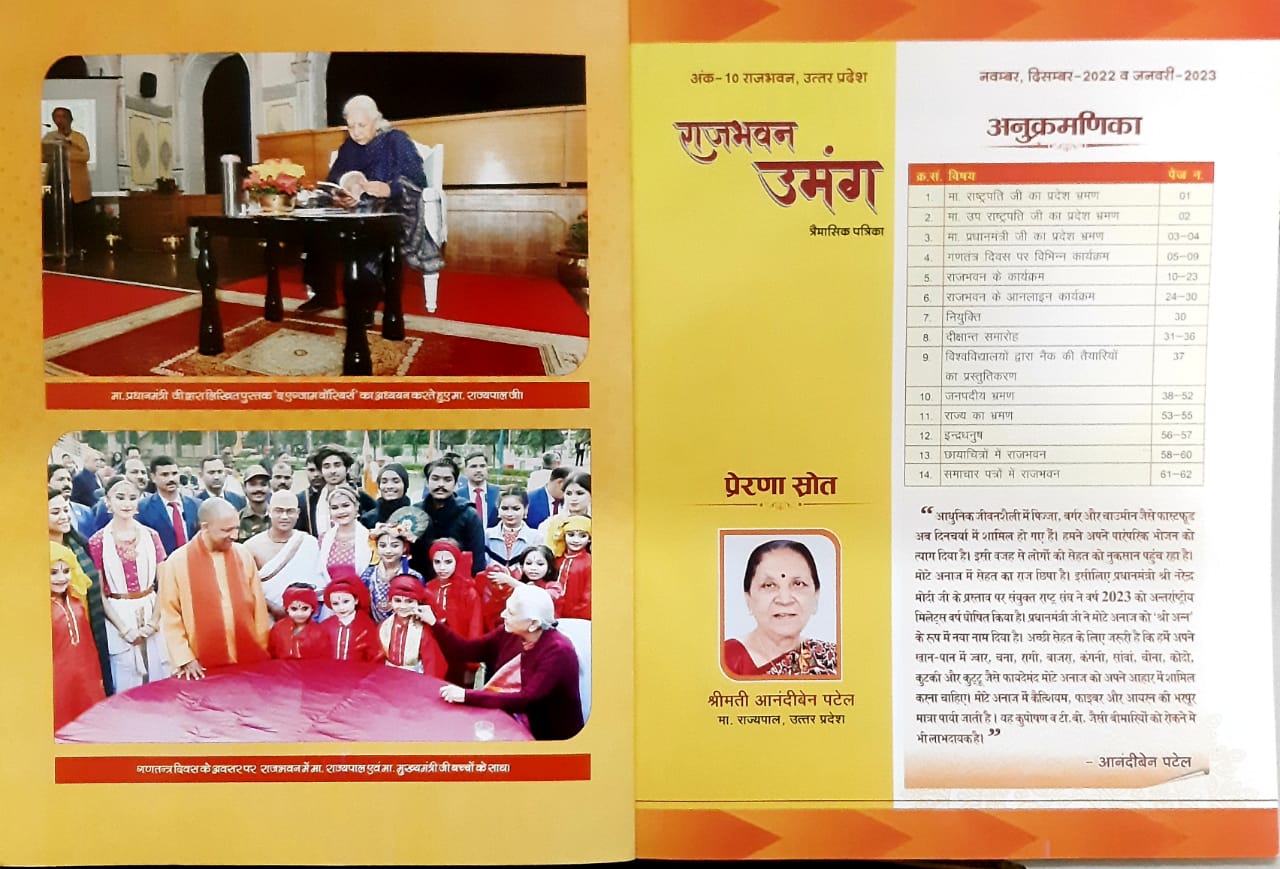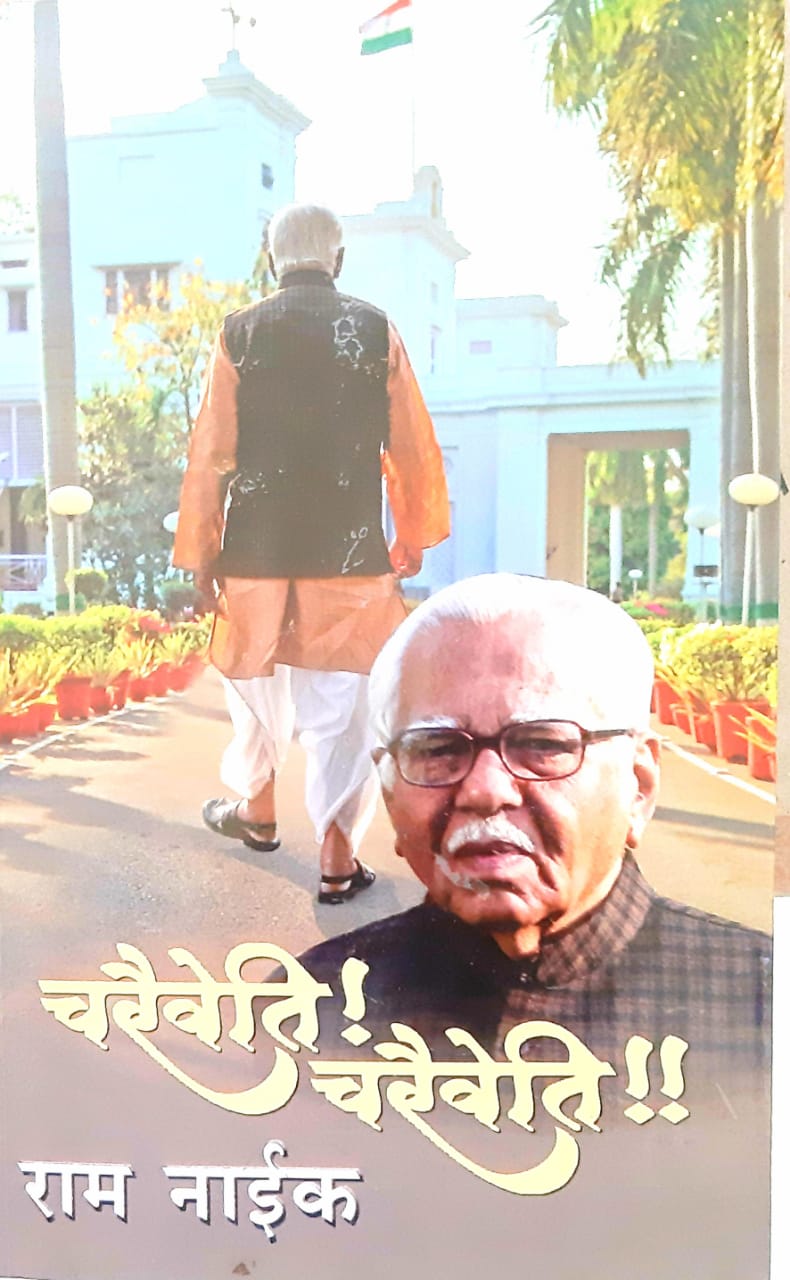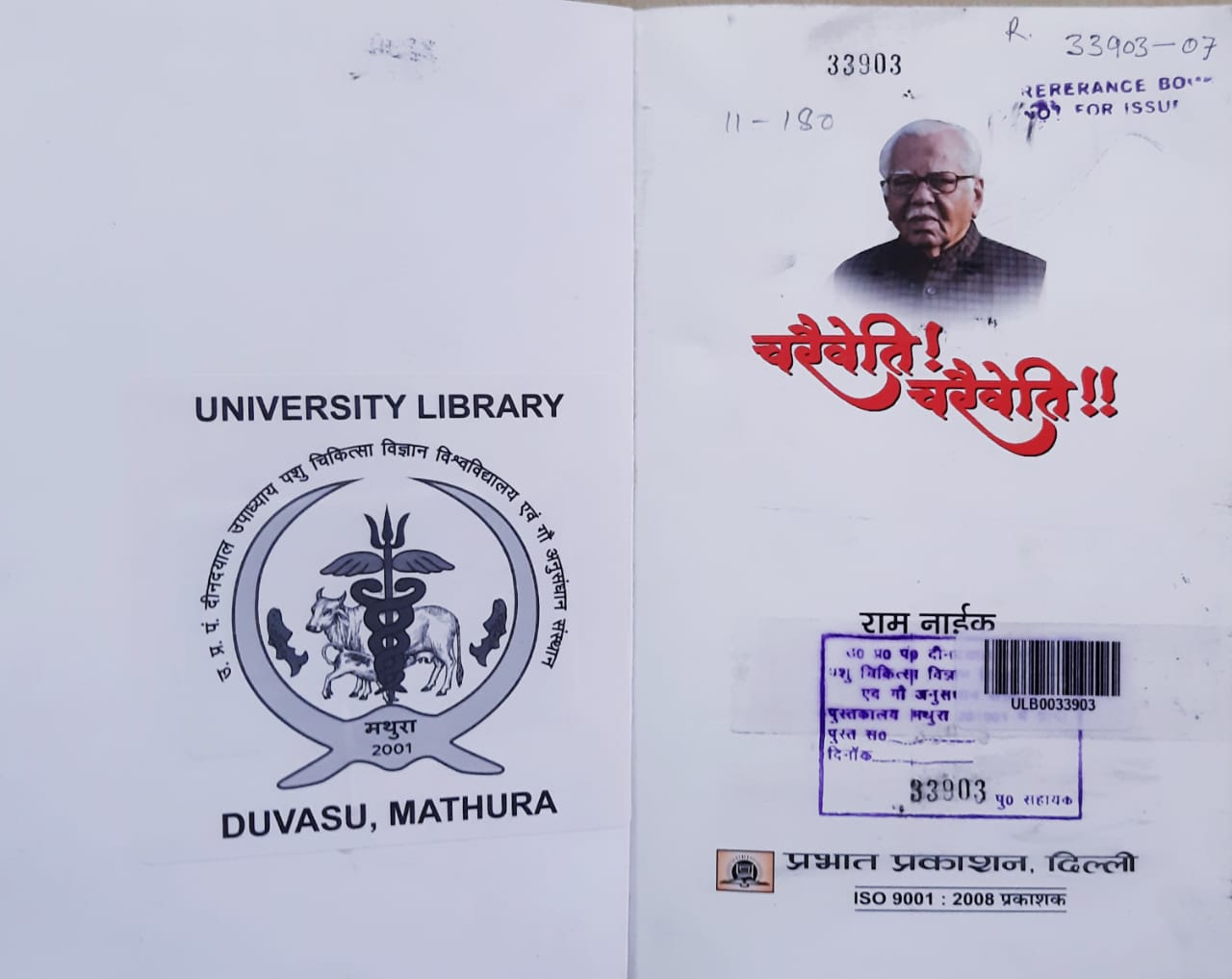 (i) Books: The library's collection includes 30,173 books, 8639 book titles, more than 14,00 books are kept as reference books. Around 300 to 350 basic to advanced books are added every year for the users of the library.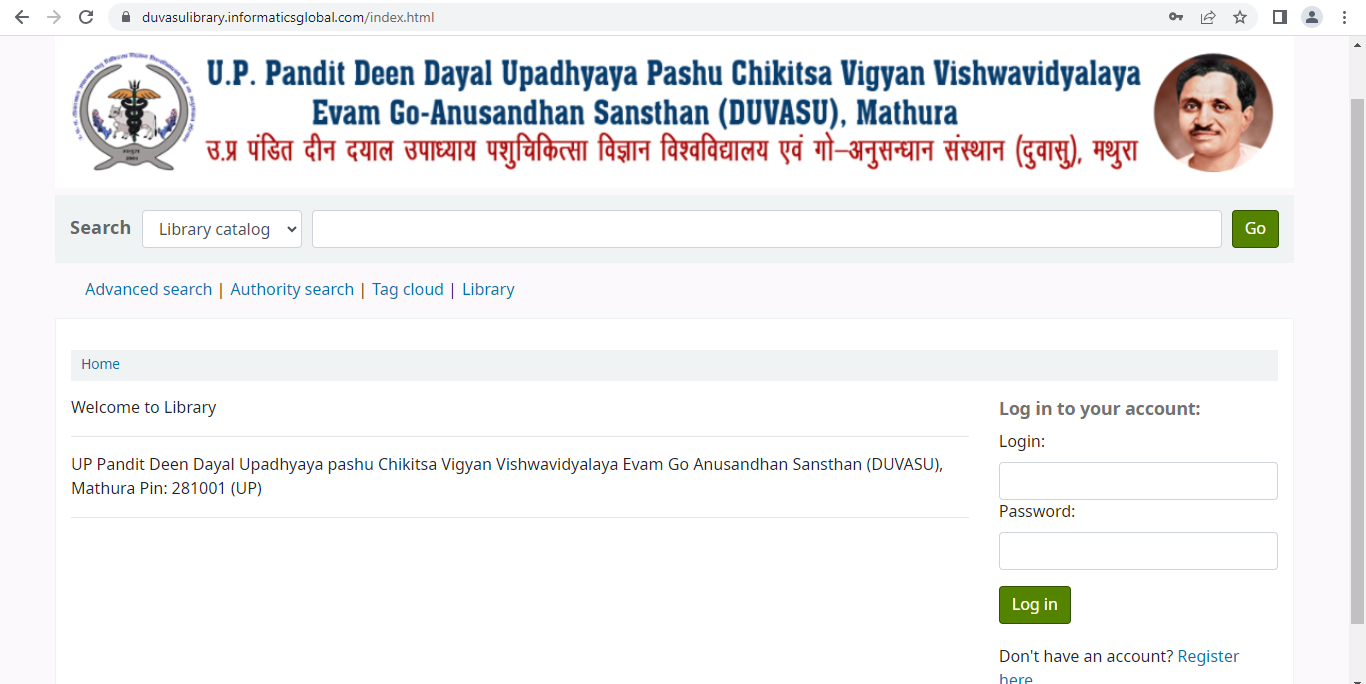 This link for patron/user login of any books in the available/circulation.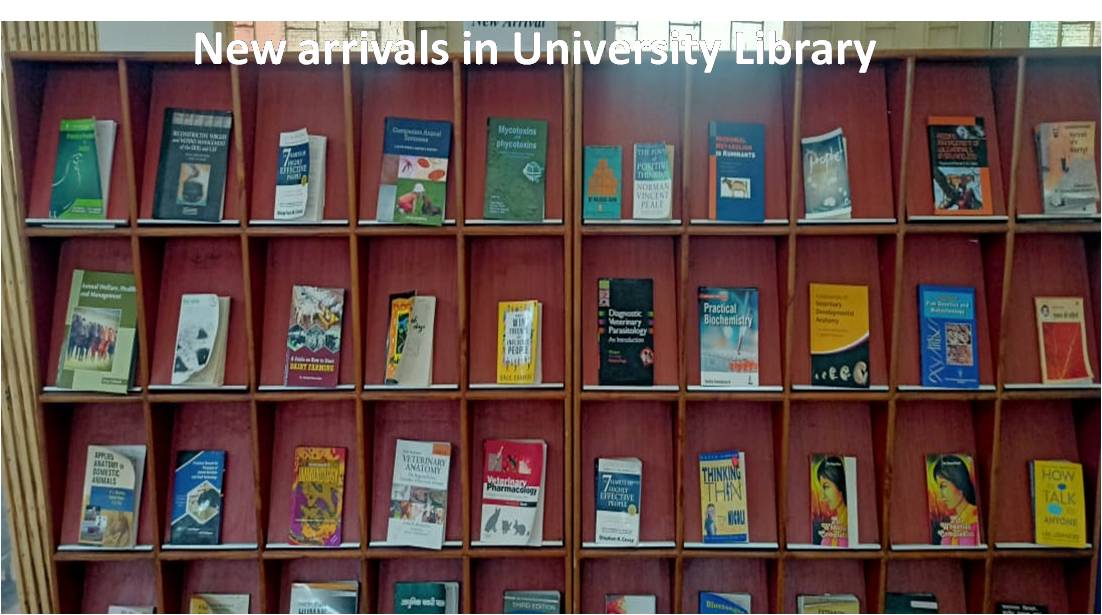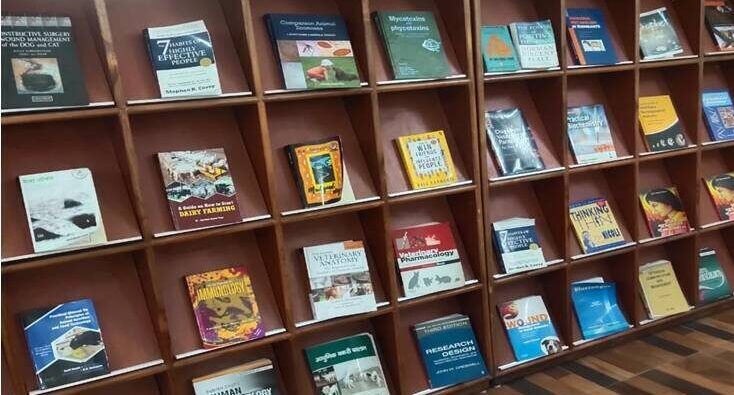 (ii) Rare Books/ Collections: 75 to 141 years old books/collections are available in the university library in hindi & english language.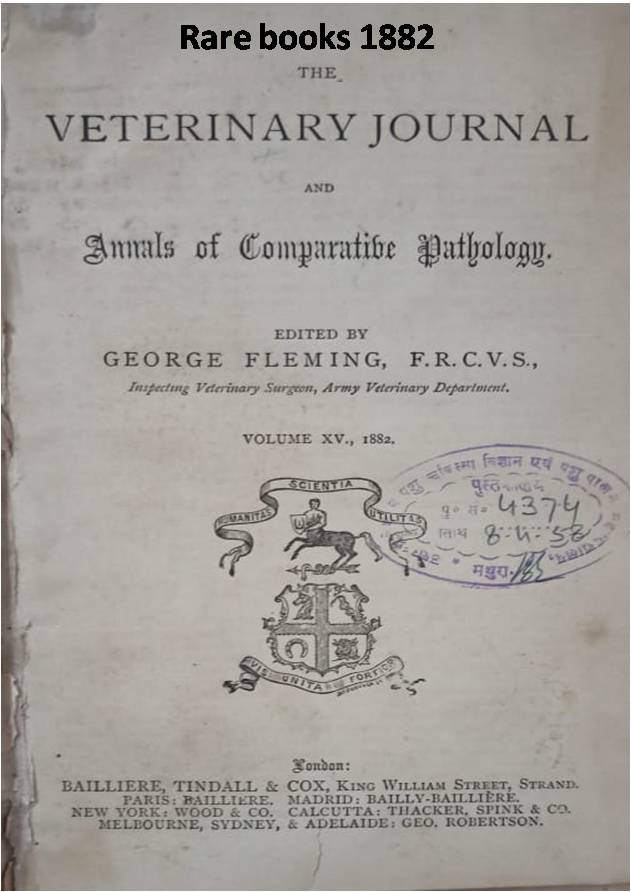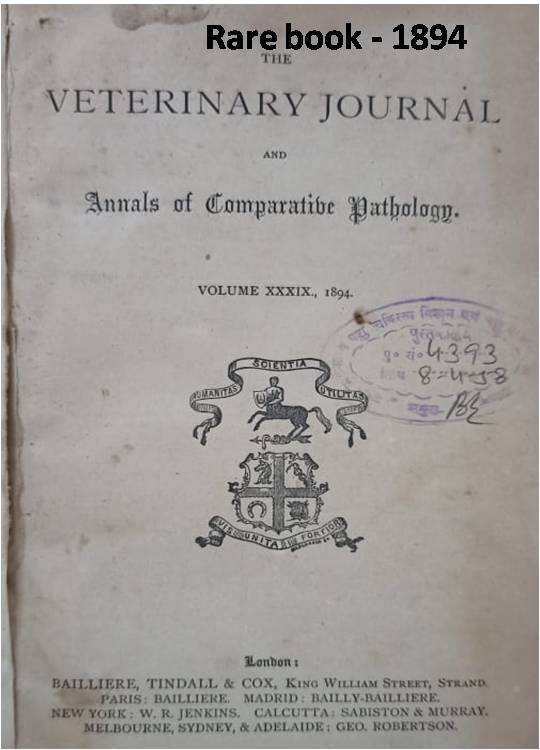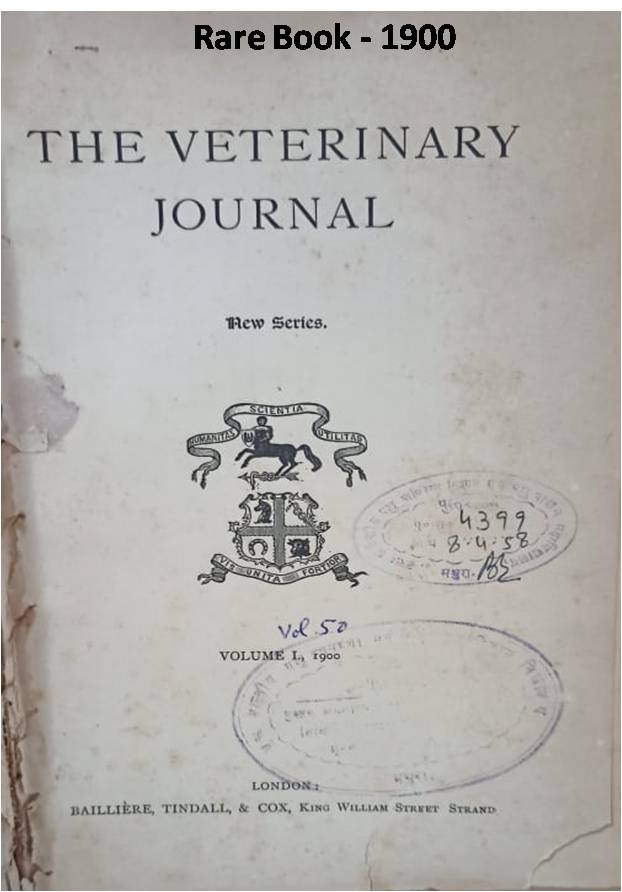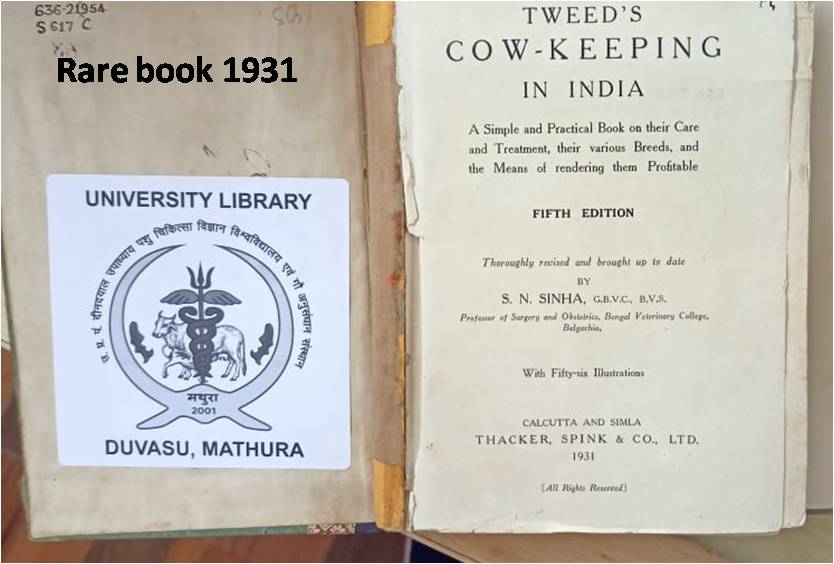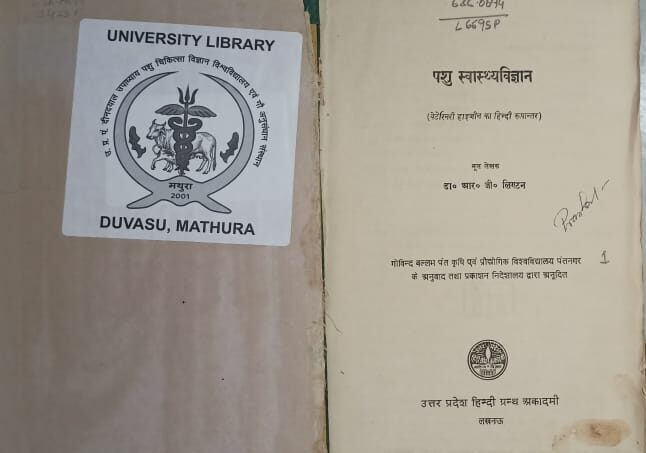 (iii) Mobile App: This Mobile App Develop by Financial Support of ICAR (3.0 Information Technology).
(iv) e-books: 73 titles e-books purchased by university in 2022. Patrons can access the following e-books procured by the library. Please check the following link to explore the e-books.
Option 01: For Accessing Inside Campus
Option 02: For Accessing Outside and Inside Campus 
For Username & Password contact University Library.
E-Library / Open Sources
Current Periodicals: Journals are the medium of scientific communication because of its up-to-datedness. The library subscribes around 11 print Indian journals every year.
E-Journals: In the electronic age, information-seeking process has become so much easier and quicker by e-journals and digital library. Many more journals will be brought under
Back Volumes: The old journals are hardbound and kept as back Volumes for reference So far, the library has built up over 10,100 back volumes of journals.
(v) CD-ROM Databases: The library has CD-ROMs for the users to retrieve necessary scientific data. Veterinary Science & Animal Science database to extend effective information retrieval services to users.
Membership: Students teachers and other staff of the university are eligible for the membership of the University Library.
Services: The library provides following services:
       KOHA online Circulation, Online Book reservation etc.  Integrated Library Management Software
       RFID Security System
       Wi-Fi Facility
       Reference & Information Services
       Book Bank Scheme
       CD-ROM Based Bibliographical Search
       Reprography
       Inter Library Loan / Resource Sharing
       On-line Full Text e-journal
       User  Education
Book Bank Scheme: In this scheme SC/ST students are given prescribed textbooks free of charge for a semester.
Reprography:  Photocopying Service is available to users @ Rs. 0.50 per page
Overnight Issue: Urgently required books/magazines are issued for overnight
CIRCULATION:
The following categories of members are entitled for borrowing publications from the Library as per the details given below :-
| | | |
| --- | --- | --- |
| Member Category | No. of  Books | Issue Period |
| Students UG | 05  Books | 01     Month |
| Students PG | 07  Books | 01     Month |
| Teachers | 10  Books | 03     Month |
| Other Staff | 02-05  Books | 01     Month |
Overdue Charges: Rs. 10.00 per book per day to continue.
| | | |
| --- | --- | --- |
| 1. | Hon'ble Vice-Chancellor/Nominee | Chairman |
| 2. | Registrar | Member |
| 3. | All Dean's of the University | Member |
| 4. | Director Research | Member |
| 5. | Director Extension | Member |
| 6. | Director Para veterinary Institute | Member |
| 7. | Finance Officer | Member |
| 8. | Estate Officer | Member |
| 9. | Store Purchase Officer | Member |
| 10. | Officer In-charge Library | Member & Secretary |
Contact information:
| | | | | |
| --- | --- | --- | --- | --- |
| Dr. Shri Prakash Singh | Officer In charge | University Library | Mobile: +91-9412014734 , 8279505956 | Email: sp82singh@gmail.com |
| Mr. Y.N. Prasad | Assistant Librarian | University Library | Mobile: +919759342467 | Email: duvasulib@gmail.com |
Activities