Brief Resume of Prof. G. K. Singh
Vice Chancellor, DUVASU, Mathura, U.P.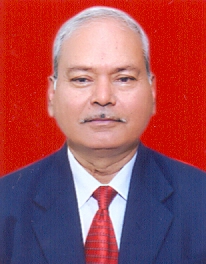 Born on 7th January 1955 in a village of Sultanpur district of Uttar Pradesh, Dr. G.K. Singh obtained his primary and middle level education from the school near his native place. After obtaining BSc (Bio) degree from Allahabad university in 1974, he was admitted to G.B. Pant University of Agriculture and Technology, Pantnagar and obtained his BVSc & AH, MVSc (Vety. Path.), PhD (Vety. Path.) and PhD (Anatomy) degrees in the year 1978, 1980, 1986 and 1993 respectively. Based on his scholastic excellence, he has been recipient of Bursary, Merit and Narendra Mohan Scholarships during the course of BVSc. & AH degree programme and was awarded Vice-Chancellor's Silver Medal for being the second best graduating student of the Faculty of the Veterinary Sciences for the year 1977-78.
Dr. Singh joined the Govind Ballabh Pant University as Assistant Professor (Vety. Anatomy) in 1981 and was elevated to the post of Associate Professor in 1987 and Professor in 1997. He was appointed as Head, Veterinary Anatomy in 1998. Dr. Singh has been the most favored and popular teacher among his students which won him the Best Teacher Award in 2000-2001 when it was introduced for the first time in the College. Dr. Singh has been a prolific researcher and has handled 8 research projects. His main research areas include pneumoenteritis, fowl pox, lymph system and developmental immunology. He has so far published 12 books, manuals and bulletins, 4 review articles, 70 research papers and 10 semi technical articles and has guided 9 PG & PhD students as Chairman, Advisory Committee. Dr. Singh has very successfully carried out the administrative responsibilities as Director, Training and Placement (2003-2006), Director, Administration & Monitoring (2007-08) and Dean, College of Veterinary & Animal Sciences (2008-2019). He took over the Charge of this University as Vice-Chancellor on 2nd March, 2019
In recognition of his scholastic achievements Dr. Singh has been bestowed upon with several awards and honours. He is Fellow of National Academy of Veterinary Sciences (India), Indian Association of Veterinary Anatomist and Society for Immunology and Immunopathology. Besides Life Achievement Award and Veterinary Anatomist of the Year (2010) Award of IAVA several Best Paper and Best Poster Awards are also to his credit. He is member of India Literacy Board, Uttarakhand Livestock Development Board, Uttarakhand Pashu Kalyan Board, IMC, NRCE (Hisar) & PD FMD (Mukteshwar), Academic Council, IVRI and life member of Dr. C.M. Singh Trust and various other professional societies. He also holds the post of Vice-President of Indian Association of Veterinary Anatomists and Society for Immunology and Immunopathology. Dr. Singh has been instrumental in creation of Veterinary Alumni Society of Pantnagar and served the Society as its founder General Secretary.
Contact Detail:
Vice Chancellor
UP Pt. Deen Dayal Upadhyaya Pashu Chikitsa Vigyan Vishwavidyalaya Evam Go Anusandhan Sansthan, Mathura (U.P.) – 281 001, India
Phone: +91-0565-2470199 (O), 2470664, 2470766 (R),
Fax: +91-565-2470819
Email: duvasuvc@gmail.com,